Hi friend! Happy Friday! I hope you've had a wonderful week so far. What's going on this weekend? We're looking forward to *hopefully* having our first family pool party. The pool is full of water (ahhhhh!) and just need to make sure the balance and everything is good to go. I'll definitely do a full pool reveal post and recap in the next week or so. In addition to pool time, I'm adding finishing touches on our August Fit Team Programming, and looking forward to a slower weekend without a ton planned. I'd love to hear what you have going on!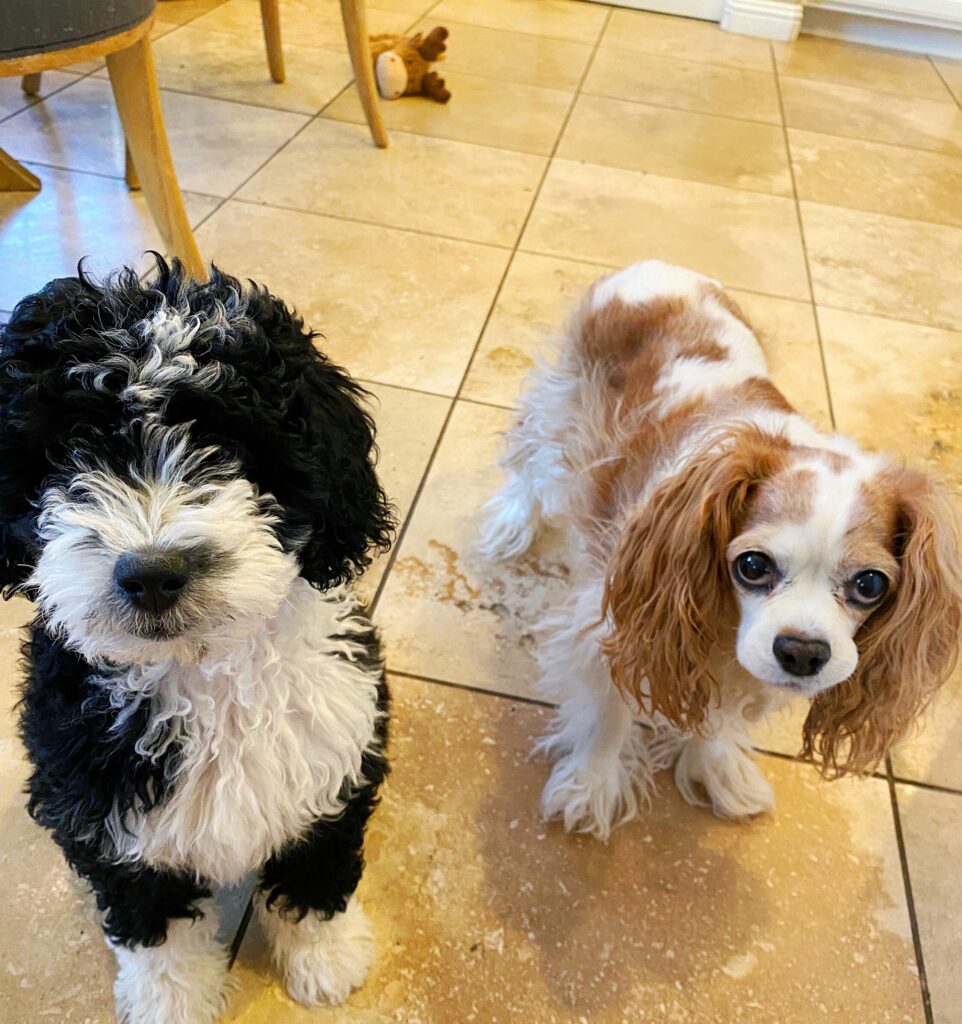 A big win for the week: we're closer to Maisey and Caro existing in doggie harmony. Maisey has been wanting to jump and play all over Caroline, but Caroline is NOT into it. She's an old gal who just wants to relax and sleep on the couch. We have an amazing dog trainer who comes twice a week (she literally speaks dog language and is SO good at what she does) and she's helped us to teach Maisey some boundaries with Caro. She can smell her, but no jumping, biting, or trying to ride on her back.
Look at them being so cute together!
Maisey is making such huge strides and in addition to being ridiculously cute, she's also super smart. With our trainer's help, she'll have excellent dog manners. 🙂
More faves from the week:
Fitness + good eats:
Try out this ball and band combo if you haven't already!
Harney Cobb salad is always a hit. It's grilled chicken, turkey bacon (cooked in the air fryer), hard-boiled eggs, black olives, tomatoes, cucumber, romaine, and Ranch dressing. It's one of the meals we know everyone in the family will eat and enjoy.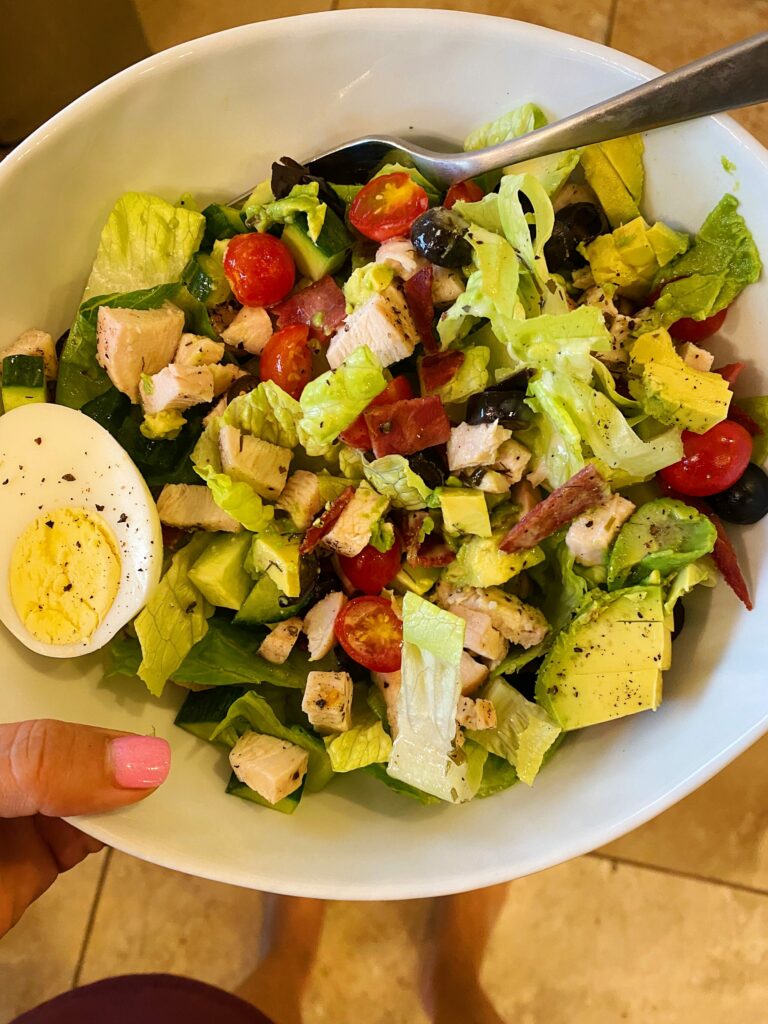 We also enjoyed this enormous cheese board while my MIL was in town. The best lunch!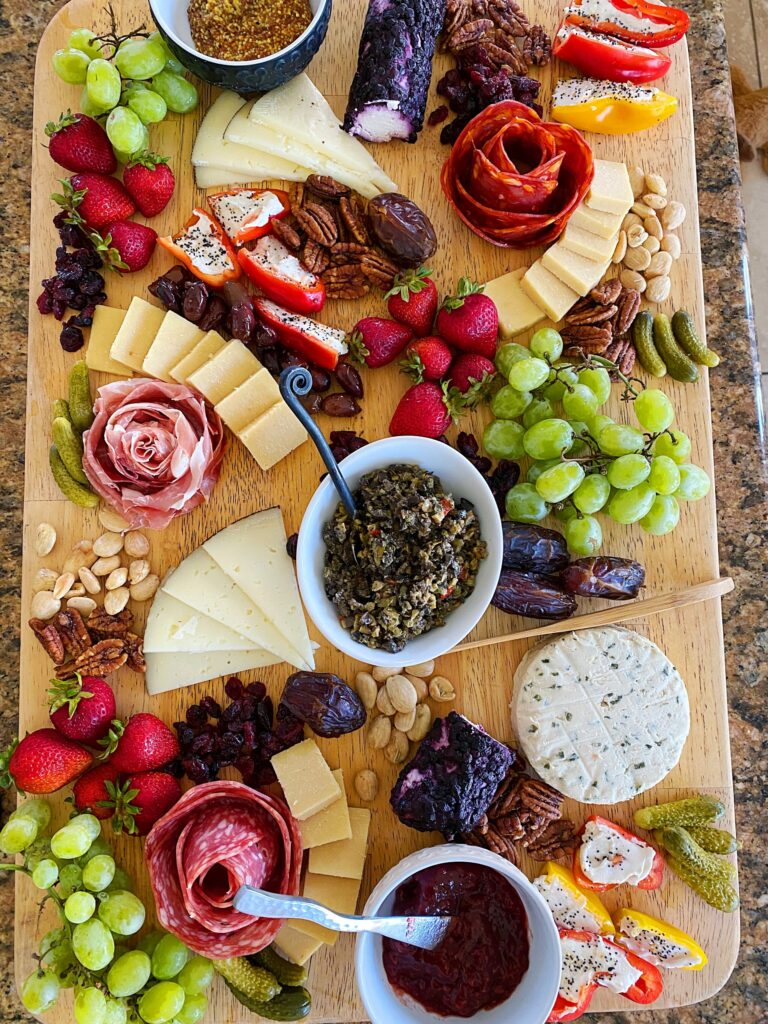 (+ different types of crackers)
It was my first time making meat roses and I'm still on the fence about them. They look really pretty but I feel like they seem unapproachable, like you don't want to eat them to mess them up. What do you think??
Lemongrass chicken with rice and zucchini
Playlist for your summer workouts
Fashion + beauty:
We have a new product launch for Beautycounter coming up in early August! You're going to love this one!!
My friends at Sakara sent over some summer goodies. The body oil smells incredible. I'm so pumped that we have a Sakara delivery coming next week – ready for some freshness and more veggies in my life.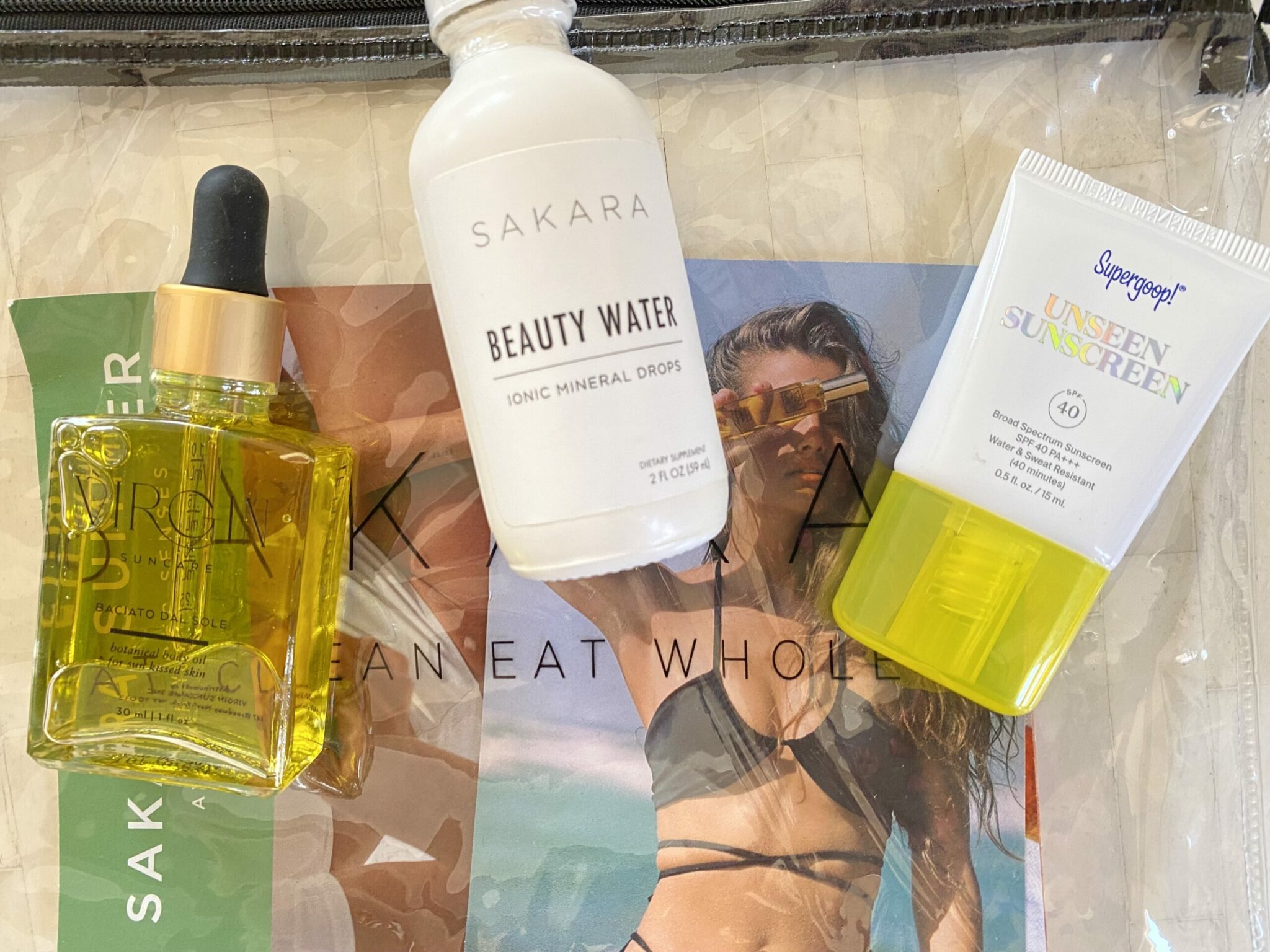 I tried Nuuly after being ad targeted forever. It was fun to search through the pieces and pick out some new-to-me things to try out this month. I got this tee,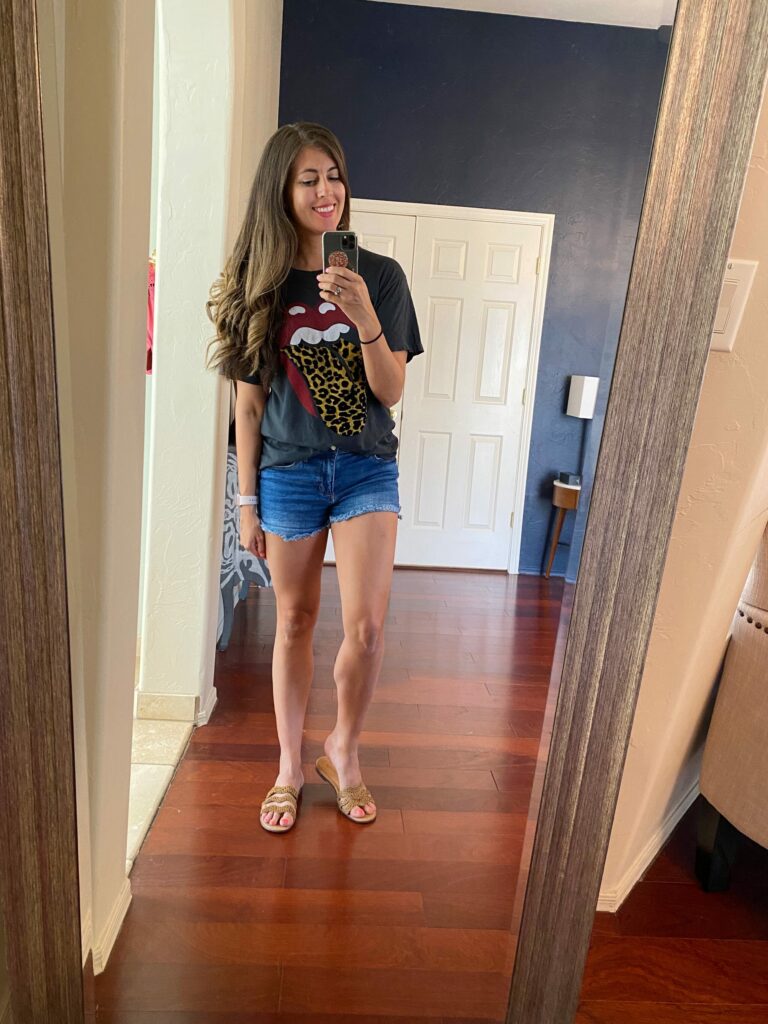 plus a handful of dresses, another top, and a skirt. I'll report back once I've tried everything. For now, I'm really loving it but the only gripe is that the shipping took like 10 days to get the items to arrive. We'll see if it's a bit faster for round 2. (Otherwise, I don't think it's worth the cost if you're waiting 10 days of the month for the items to arrive.) I have a referral link here for $ 10 off your first month if you want to try it out with me. 🙂
Nordstrom Sale goodies are arriving! I like when the goods trickle in slowly instead of being an obvious shopping mountain on the porch lol.
The home runs so far:
Got these Ugg boots for the girls. Love the little sparkle detail.
I also use this chance to get their North Face jackets for the winter. Here is the one I ordered for P.
(Public access begins on the 28th and you can check out my top picks here! I recommend adding items to your wish list and adding to cart as soon as you can. Things sell out quickly and I've noticed quite a bit have sold out already.)
Some faves that are still in stock:
This cozy cardigan. I purchased one last year and lived in it all fall and winter. I'd throw it on with pajamas to wear around the house, or wear it with a v-neck tee and jeans.
These bike shorts. LOVE these for hot yoga and strength training.
This Hunter plaid shirt. I have a few Rails shirts and while they're more expensive, it's always worth it. The fabric and quality is amazing and they last for years.
I have this bralette and wear it with a tank top so a bit of the lace detail shows.
These Chelsea boots will look so cute with leggings and a sweater.
These initial pendants for a holiday gift option.
My fave leggings ever (for workouts and life).
Love these pajamas and have multiple sets.
Another inexpensive gift idea.
Gahhhh I adore this blanket.
Might have to see how these compare to the Pilot's beloved lululemon shorts.
If you're in the market for a new bra, this is my #1 and I'm super weird and picky about bras. I hate underwire and also need a little bit of shape without being thick, bulky padding. This checks all of the boxes.
These sneakers with an understated leopard print.
This chain necklace. I have a similar one and wear it all the time.
Everyday super soft Pima crew neck tees for the hubby and these low-top sneakers.
* I know that everyone is posting about the Nordstrom sale so I just wanted to add a note and say thank you so much to those of you who choose to shop through my links. They don't affect purchase price and help me to support our family. Your support means the world to me. <3
Read, watch, listen:
This fully supports the morning chocolate I have most days. 😉
Check out this week's short podcast episode about a tip that helps me out on stressful and frantic days.
Obsessed with this backyard remodel.
Happy Friday, friends!
xo
Gina